Playful Newborn Foal Has Heart-Stopping Wipeout In Pasture
|
What you are going to watch in this video is a foal called Felix who is just three weeks old and loves playing around. He lives on a beautiful farm near Peterborough, Ontario, along with a few other horses, some cows, and a few dogs.
As kids want to explore everything around them so do the foals and Felix wants to experience the new and exciting first things and apparently, he is going to get into trouble. Some people went to Ontario to visit the little cheeky foal to only witness a heart-stopping sight. As Felix is very playful and loves jumping around, he started running and showing off telling others that his legs were strong enough. All eyes were on Felix and they were really admiring the view when they really got a scare.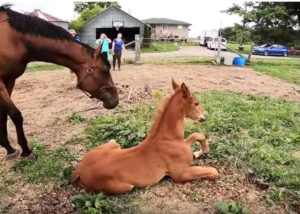 Everything was fun until Felix didn't plan a jump well enough and he landed terribly wrong. The hearts of the people there raced as they were really worried about the health of the cute foal. His mother approached immediately and Felix might have got badly hurt or injured but fortunately, he was back on his legs after some time and started running again. Watch the video for more!