Her Parents Wouldn't Buy Her A Horse, So She Trained Her Dairy Cow Instead
|
Humans have to do with the means they have and if you don't have a horse but a cow instead then why not try riding a cow and teach it to jump as well. The video you are about to watch shows a girl riding a cow and also practicing jumping with it.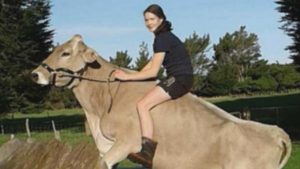 It might seem strange to someone but this is so funny to watch. It is not as easy as it seems because a lot of hard work and patience was given into this training but once you are on a cow, you just don't want to get off it.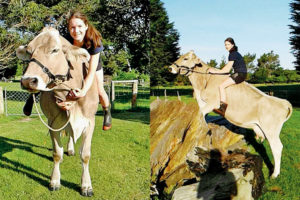 At 11 years old, Hannah Simpson was told she couldn't have a horse because they are too expensive. She decided to train her dairy cow instead. Now 18, Simpson and her seven-year-old Swiss Brown, Leila, have become a regular sight on their daily rides. Watch the video for more and please share it with your friends on Facebook.